Everglades City, Florida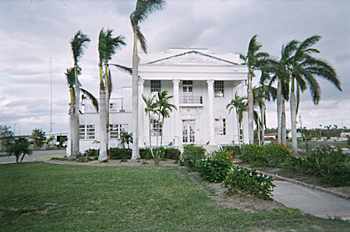 Everglades City is a mile long mangrove island with crab houses, shops, restaurants, motels, marinas, museums, an airport, canoe & kayak guided adventures, aerotours, boat tours, airboat rides, canoe/kayak/bicycle rentals and nice walking paths. It is known as 'the fishing and stone crab capital of Southwest Florida' and is one end of the Wilderness Waterway, the Everglades backcountry route linking Everglades City to Flamingo.
Within minutes by powerboat from Everglades City you can visit a secluded beach or explore a mangrove tunnel. Spend the day canoeing, kayaking, biking, or hiking in the Everglades National Park or surrounding areas.
Activities in the area include: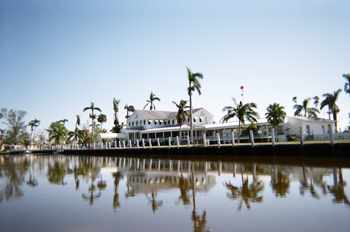 Airboat Tour through the Everglades
Pontoon Boat ride through the 10,000 islands
Everglades National Park Boat Tour
Tram Ride through the Everglades
Swamp Buggy Tour through a Cypress Forest
Alligator Farm Tour
Tour of The Museum of the Everglades
Native Indian Village tour

Moving to South Florida Paradise!

South Florida and Southwest Florida offers gorgeous beaches and a tropical lifestyle! With less severe winters than many parts of the country you can expect to spend less on winter clothing and heating fuel - making the cost of living more reasonable. South Florida is one of the fastest-growing areas in the state and a great business environment. South Florida's skilled workforce and advanced infrastructure have helped the growth of more than 600 technology companies and many Fortune 500 businesses.There is a great transportation network, including a recent $438 million expansion and upgrade at Southwest Florida International Airport. Historic and cultural amenities range from Seminole Indian reservations to Thomas Edison's home, from hundreds of local art galleries to the region's many performing arts centers making moving to this region in Florida very desirable. The Southwest Florida real estate market is in full swing with golf communities, condos, waterfront homes and all types property. For more information on Florida relocation click here

FLORIDA VACATION RENTALS

Great deals on vacation homes and condos!
Search by date, price, location. Pictures & full descriptions!
Click here


Everglades City Attractions
We invite you to take a virtual tour of some of our most popular travel destinations in Everglades City including the Everglades City Museum and the Gulf Coast Visitor Center.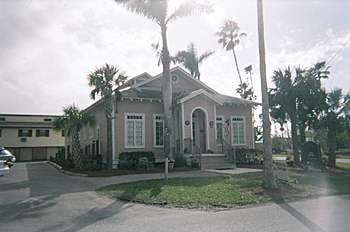 The Everglades City Museum is located at 105 Broadway Ave. West The Collier County Museum's branch facility in Everglades City provides visitors with an in-depth look at over 2,000 years of human history in Southwest Florida's unique "River of Grass". Museum of the Everglades offers a unique look back at Collier County's development in the early 1920's. Permanent exhibits feature Barron G. Collier's successful transformation of a pioneer village into a modern 1920's town and his fulfillment of a promise to complete the road (the Tamiami Trail) that would open the area to tourism and development. Florida Archaeology Day at the museum and Old Florida Festival at the Everglades Museum are a celebration of 6000 years of South Florida history . Please phone 941-695-0008 for more information.
The Gulf Coast Visitor Center Information Center, Everglades City
The Gulf Coast Visitor Center is located in Everglades City, in the northwest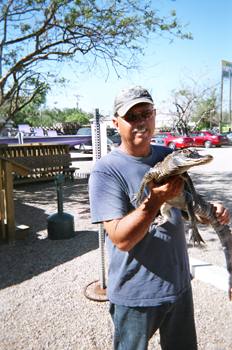 corner of the park. The visitor center has natural history exhibits, and information, and issues backcountry permits and park passes. It is open daily from 7:30 am to 5:00 pm November to April, and 8:30 am to 4:30 pm. May to November. Gulf Coast is the gateway for exploring the Ten Thousand Islands, a maze of mangrove islands and waterways that extends south to Flamingo and Florida Bay.
A 1 hour 45 minute narrated boat trip provides an overall description of this saltwater ecosystem. Canoes may be rented to explore Chokoloskee Bay and the Turner River. For the more adventurous, the 99 mile (159 km) Wilderness Waterway, accessible by canoe, kayak, or small motorboat, winds through the mangrove islands all the way to Flamingo. Please phone: 239-695-4731 for more information.
Jungle Erv's Alligator Park, Everglades City Visit the alligator park for tales from the Gator Man. Attraction type: Park; Wildlife park
Everglades City is surrounded by several scenic parks, including Everglades National Park, Big Cypress National Preserve, Collier-Seminole State Park, and Fakahatchee Strand State Preserve.